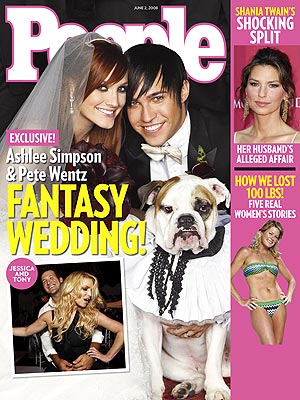 Ashlee Simpson goes with half up-do hair style
Ashlee Simpson's Wedding Hairstyle – Sign of the Times?
"Ashlee Simpson Wedding Hair Style"People magazine released the first pics I've seen of Ashlee Simpson and Pete Wentz's wedding hair style. More pics will be coming of course, but the front page of the magazine doesn't tell much of the "ivory laced, Monique Lhuillier gown" reportedly worn by the glowing bride. BUT . . .  what does it tell?
Are you seeing the beginning of a trend here, or is it just my imagination?  Are the forever notable, celebrated and memorable wedding up-do hair style of days gone by . . . gone bye-bye?  Probably not but certainly we've been seeing more "half up-do hairstyles" on celebrities and others of note, but you'll see a post on that coming soon.
Half up-do hairstyles aren't new, but they have been showing up on runways and celebrities again and again in the recent past. Famed hairdresser, David Angelista, shows a couple improvisations of the half up-do hairstyle on a CBS Special, inspired by Fashion Week last spring. He shows us the "slick half up-do hair style" and the "half up-do hairstyle." He gives easy and simplistic directions to achieve the new looks in hair styles. I wrote an article about it recently.
As much as I love a beautifully done up-do hair style, I'm certainly not stuck on the idea that everyone with long hair needs to turn their hair style into a piece of artwork on their wedding day. On the contrary, I applaud the idea of keeping it simple, comfortable and beautiful with what you wear. We will see the whole picture of the hairstyle Ashlee created, when we see the Monique Lhuillier ivory laced gown, in Friday's edition of People Magazine.
I think this hair color is the best I've seen with Ashlee's skin tone. And the hair style is shiny and healthy looking, so why not show it off.  See more on Ashlee Simpson's hair style and hair color change.
What do you think of Ashlee Simpson's half up-do hair style?  Do you like hubby Pete Wentz's modified emo hairstyle?
For more great looks check out our Pinterest Wedding Hairstyles, Prom Hairstyles, Celebrities, and Braid Boards.
Share this article
Got a question, war story or comment about this topic? Click on the "Leave Your Comments" link at the very bottom of this article. Some of my best ideas for future articles come from reading reader comments. I'd love to hear from you!
No Comments »
No comments yet.
RSS feed for comments on this post.
Leave a comment