The Three Most Popular Types of Hair Extensions
Clip-In Hair Extensions
Clip-in hair extensions just keep becoming more and more popular because of their ease and versatility. With clip-in hair extensions you can add hair just for one night or add in a strand or two of a contrasting color just for fun. Clip-in hair extensions offer length and thickness those other types of hair extensions offer but without the commitment of both money and time.
You can expect to pay around $100 for full clip-in hair extensions like Jessica Simpson and Ken Paves line called, HairDo. If you simply want to add in a strand or two of color, expect to pay about $10-$30 per colored strand. Also, keep in mind that these prices are for synthetic hair extensions, which cannot be styled with heated styling tools. For clip-in human hair extensions, expect to pay twice as much, if not more.
I recommend clip-in hair extensions to my clients who want longer, thicker hair for just one night or for occasional use. We get lots of requests for clip-in hair extensions at the shop just before prom. Clip-in hair extensions are ideal for creating new do's for prom or anytime. They are affordable, easy to work with and can be used over and over again . . . that's why they are my favorite!
Weave-In Hair Extensions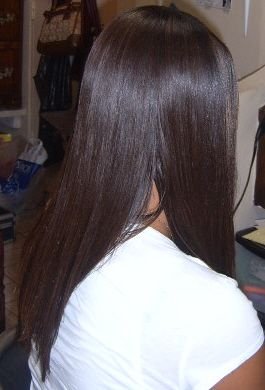 Weave-in hair extensions are most popular in the African-American community Weave-in hair extensions have been around for such a long time. This hair extension application method is popular in the black hair community. The way hair extensions are weaved in is that a portion or all of your natural hair is braided up and then a hair net is placed over the braided hair. Human hair is then weaved into or sewn into the braids or the hair net. This gives someone who doesn't have ideal hair naturally the opportunity to have the illusion of long, thick, silky hair. Weave-in hair extensions vary so greatly in prices depending on the cost of the hair, how much hair you are using and the cost that the hairdresser charges you for the service. They can run from the high hundreds to even a few thousand dollars!
.
Fusion Hair Extensions
This video helps to explain the fusion hair extension technique. This is a natural looking style using human hair extensions. Bonded to your natural hair, these human hair extensions are bonded with a wax based bond. The benefits of these extensions are that they are virtually undetectable. You can't see where they are attached and they blend well with your own hair. Fusion hair extensions are quite costly and can cost upwards of $650. However, these extensions last about 3-4 months, so the cost might be well worth it for some.
There is some interesting information regarding hair extensions in the new Chris Rock movie, Good Hair due to come out this month. It should be a great movie for all . . . hair buffs or not!
Share this article
Got a question, war story or comment about this topic? Click on the "Leave Your Comments" link at the very bottom of this article. Some of my best ideas for future articles come from reading reader comments. I'd love to hear from you!
1 Comment »
Another tip to help blend in extensions are to use hair accessories. With the right head band or scarf you can accessorize and blend all at once!

Comment by Mingdong Chen — October 12, 2009 @ 2:39 pm
RSS feed for comments on this post. TrackBack URI
Leave a comment